Days of New
* Release Blitz *
GIVE THE DEVIL HIS DUE
---
Set in the same world as Meg Collett's bestselling End of Days series comes
the darkly comedic stand-alone serial spin-off, Days of New.
---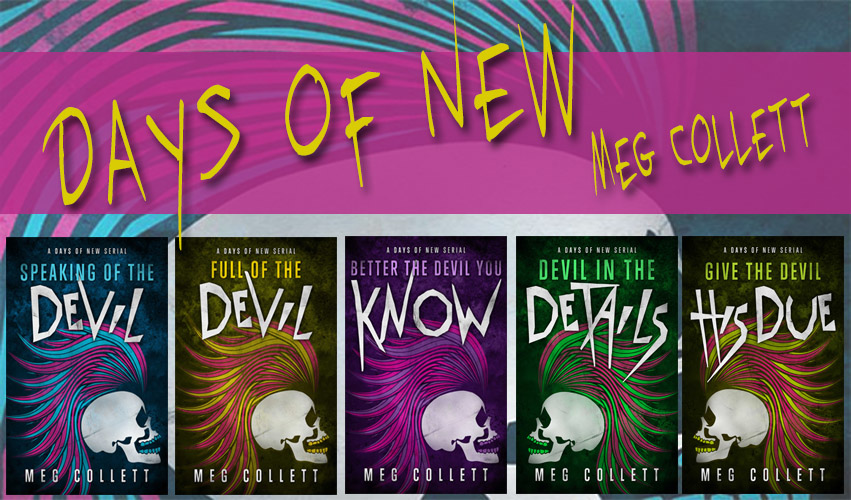 ---
Get 1-4 Now on Amazon!
---
NEW RELEASE!
Give the Devil His Due (Book 5 in the Days of New series)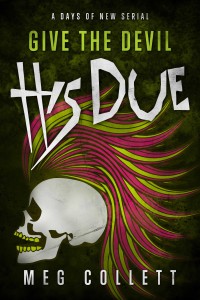 Set in the same world as Meg Collett's bestselling End of Days series comes the darkly comedic paranormal serial spin-off series, Days of New.
A girl who doesn't believe in angels.
A devil who doesn't believe in himself.
She has one week to save his soul or another war will break out, and no one will survive this one.
Don't miss the thrilling conclusion to the Days of New paranormal serial series, Give the Devil His Due.
---
Meg Collett lives deep in the hills of Tennessee where the cell phone service is a blessing and the
Internet
is a myth of epic proportions. She is the mother of one giant horse named Elle and three dogs named Wylla, Mandy, and Drax the Destroyer. Her husband is a saint for putting up with her ragtag life. Her paranormal romance series,
End of Days
, is currently available in its entirety.
Fakers
, a contemporary romance, is also available.